---
BrainU in Africa
August 27, 2018 - Jan Dubinsky presented a 2-week BrainU in Monrovia, Liberia, working with educators from both public and private schools. This training is one of the first of its type to be organized in the country.
"We want teachers to understand how learning takes place in the brain and how it may sometimes not work ultimately in cases of mental illness," Dubinsky said. "We want the participants to become aware of the problems children may have with their mental health while in school."
Read Dozens of Teachers Undergo Training in Brain Science in Liberia's online news source The Bush Chicken
---
2018 Brain Awareness Video Contest
April 30, 2018 - Create an educational video about the brain for the 2018 Brain Awareness Video Contest. Demonstrate a neuroscience concept through an animation, a song, a skit, or another creative approach. Get your community excited about neuroscience and put your creative skills to work — you could win $1,000 and a trip to Neuroscience 2018 in San Diego, CA!
Anyone can enter, and you can work on a video by yourself or in a group. Top videos will be featured on SfN.org and BrainFacts.org and recognized at Neuroscience 2018.
Submissions are due June 14 — start working on your video today! Videos must be submitted by an SfN member. Find a member near you with the Find a Neuroscientist program. Watch last year's winning videos and learn more at BrainFacts.org/bavc.
If you have any questions about the contest, please email baw@sfn.org.
Links:
---
Bell Museum Educator Preview Nights
April 15, 2018 - The Bell Museum will be opening this summer in its new location on the St. Paul campus. The grand opening is July 13-15, but educators are invited for a free, early preview on May 15 and May 17.
"Be among the first people to see the new spaces, meet our education team, get ready for 2018-19 field trips, and sample new labs and activities."
Links:
---
Eddie B: Teachers Only Comedy Tour - April 21
April 15, 2018 - Eddie Brown is a teacher who gained prominence with a series of YouTube videos titled "What Teachers Really Say". He performs Saturday at Northrop.
"The 'Teachers Only Tour' has established Eddie as the official voice of teachers across the globe."
Links:
---
The Beautiful Brain Exhibit Opens in New York
January 9, 2018 - Professor Dubinsky just returned from the opening of The Beautiful Brain at NYU. This exhibit of the drawings of Santiago Ramón y Cajal premiered at the University of Minnesota's Weisman Art Center last January. It then traveled to British Columbia before opening today at the Grey Art Gallery at New York University, where it will remain until March 31, 2018.
Cajal is considered the father of modern neuroscience. He drew the brain in a way that provided a clarity exceeding that achieved by photographs of the time (late 1800s). The Beautiful Brain exhibit features 80 of Cajal's original drawings, many of them never before seen in the United States.
Links:
---
Eric H. Chudler Wins Emmy Award for Brainworks Episode
June 6, 2017 - Congratulations to Eric Chudler and his team at the University of Washington for their 2017 Northwest Emmy Award win for the program "Exercise and the Brain!" Hosted by Chudler, the video discusses the benefits of exercise on the brain and learning, and is part of the BrainWorks series, which aims to educate children about the wonders of neuroscience.
Links:
---
The Beautiful Brain: Drawings of Santiago Ramón y Cajal
January 28 - May 21 2017 at the Weisman Art Museum
University of Minnesota-Twin Cities campus
January 28, 2017 - Santiago Ramón y Cajal, considered the father of modern neuroscience, was also an exceptional artist. He drew the brain in a way that provided a clarity exceeding that achieved by photographs. This traveling exhibition of Cajal's original drawings was organized by the Weisman Art Museum in collaboration with Drs. Eric Newman, Alfonso Araque, and Janet Dubinsky, neuroscientists at the University of Minnesota and leaders in the field of neuroscience. More information
---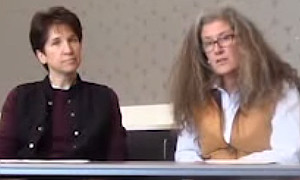 BrainU Grads Publish Critical Response Protocol Paper
April 15, 2016 - Science teachers and former BrainU participants, Kris Bakkum and Charlene Ellingson, are featured in this 4-minute video discussing the 5 levels of the Critical Response Protocol, the subject of a paper they co-authored with Dr. Janet Dubinsky and Dr. Gillian Roehrig. Critical Response Protocol was published in April 2016 edition of The Science Teacher, the magazine of the National Science Teachers Association.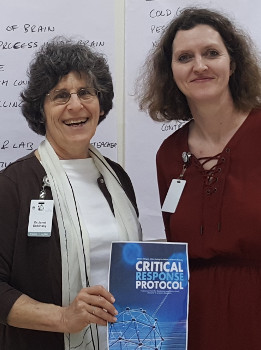 Critical Response Protocol is an approach to teaching that originated in art and dance. In CRP, students are encouraged to think about the subject in a new way - making observations, asking questions, and sharing insights with their classmates. "[CRP] really helps students generate language that is meaningful to them around the scientific topic of study," Char states at 2:54 in the video.
The paper (available online) describes one classroom's experience of CRP on the subject of nanotechnology. Watch the video.
---
2016 Brain Awareness Video Contest Announced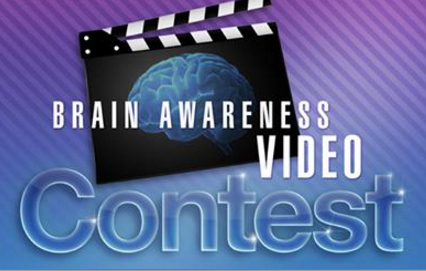 April 15, 2016 - SfN started the Brain Awareness Video Contest in 2011 to encourage the production of brief, creative, and educational videos about the brain that could be used as teaching tools for the general public.
Videos can demonstrate a neuroscience concept through animation, song, skit, or any other creative approach. People of all ages and backgrounds are welcome to enter but videos must be submitted by an SfN member. Get your community excited about neuroscience and put your creative skills to work — you could win $1,000 and a trip to Neuroscience 2016!
Top videos will be featured on SfN.org and BrainFacts.org and recognized at Neuroscience 2016.
Submissions are due June 16 — start working on your video today!
Questions? Contact baw@sfn.org. More information
---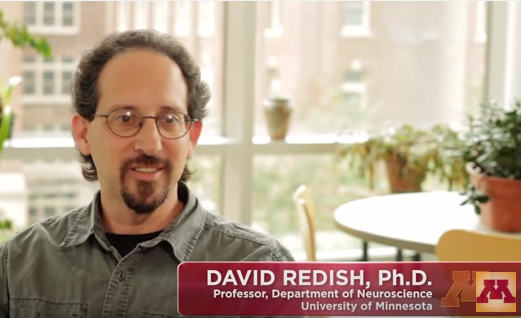 Exploring Mental Time Travel
November 16, 2015 - The research of BrainU presenter and friend, Dr. David Redish, is featured in one of 3 winning videos, focusing on exciting research and the people behind it.
Dr. Redish's winning entry is entitled "Exploring Mental Time Travel." The video is a 2.5 minute view at his lab's work with rats and decision-making. Watch the video.
---

Brain Science at the Movies
April 10, 2015 - The NeuroPsyFi website will give you loads of ideas on how to incorporate popular movies into your classroom. Created by a clinical neuropsychologist, educator, and screenwriter, the website features movies with characters who have special brain abilities or neurological disorders. Movies are reviewed (Still Alice, Awakenings, etc.) on the site, several with related classroom activities and other teacher resources.
---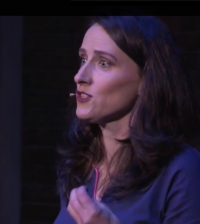 BrainU and The Netherlands
March 30, 2015 - "Our brain asks for a rich learning environment." In a recent TEDxTalks Amsterdam presentation, Dr. Sandra van Aalderen-Smeets discusses the impact that teacher attitudes and beliefs have on their interaction with children, suggesting that teachers are not the drivers but the engineers of their students' brains.
BrainU is referenced near the end of her talk: "There has been one really beautiful study by Dr. Dubinsky in the United States where she shows as teachers get a better understanding of the brain and brain plasticity, it actually changes their beliefs and behavior in the classroom." See this 14-minute video.
---
Ideas from Neuroscience to Enrich your Teaching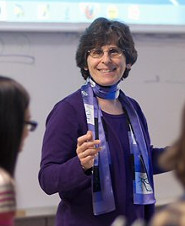 August 24, 2014 - UMN faculty and instructional staff are invited to the 2014 August Teaching Enrichment Series. From 9am-1pm, participants will attend 1-hour workshops addressing topics of interest to teachers -- using Moodle, creating a syllabus, engaging students, etc.

BrainU director Dr. Janet Dubinsky will speak at a lunch presentation on Wednesday, August 27th. During her talk entitled "Ideas from Neuroscience to Enrich your Teaching," Dr. Dubinsky will discuss how neuroscience research might influence pedagogical strategies instructors can use in their classes. More information
---
Neuroscientists' Classroom Visits Positively Impact Student Attitudes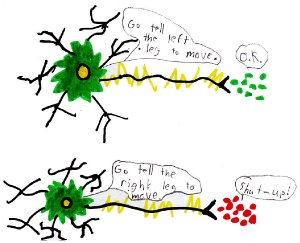 Short, scientist-in-the-classroom visits can make a positive contribution to primary school students' attitudes toward science and learning according to an article co-authored by Dr. Dubinsky. Neuroscientists' Classroom Visits Positively Impact Student Attitudes, which appears in the December 16 issue of PLOS ONE, describes research involving a series of brain awareness presentations done in 2011. Scientists (faculty, lab staff, and students) from the University of Minnesota visited a number of middle school classrooms to give hour-long presentations about the brain: its structure and function and how it changes with learning, a concept called synaptic plasticity. Before and after the presentation, participants (teachers and students of these 4th-6th grade classes) responded to surveys which asked them to rate statements such as "I enjoy science." and "I am already as smart as I can get." Analysis of survey responses and discussion of scientist in classroom (SIC) visit effectiveness are detailed in the 12-page article - freely available as a PDF download from PLOS ONE.
---
BrainU Article Honored as SCIENCE Editors' Choice
November 11, 2013 - While attending the Society for Neuroscience annual meeting last weekend, Dr. Janet Dubinsky received word that a paper she authored with Dr. Gillian Roehrig and Dr. Sashank Varma had been selected as an Editors' Choice by SCIENCE magazine. The paper, entitled "Infusing Neuroscience Into Teacher Professional Development," appeared in the Aug/Sept issue of Educational Researcher, the journal of the American Educational Research Association (AERA).
SCIENCE is the highly-respected, peer-reviewed weekly science journal of the American Association for the Advancement of Science (AAAS). Selection as an Editors' Choice is a great honor. In the Editors' Choice notice entitled "When Neuroscience Guides Education," editor Fanny Bernardon writes "...BrainU succeeded in motivating teachers to implement student-centered lessons, based on the concept of plasticity, and in modeling best practice in inquiry pedagogy."
Upon hearing this news, Dr. Dubinsky contacted the BrainU team with thanks and congratulations. She asked that we get the word out to BrainU supporters and participants so that you can know the impact of your hard work. "I truly appreciate their (BrainU participants and teachers) participation and willingness to let us into their classrooms."
Congratulations, everyone! It's time to celebrate...and read the article online.
---
Dr. David Redish Featured on BBC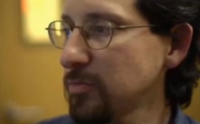 August 12, 2013 - UofM neuroscientist and BrainU presenter (Addiction & Decision-Making Models) A. David Redish, PhD, was featured in a segment on the BBC TV show Dara O Briain's Science Club recently. The topic: his research into mental time travel in rats.
Mental time travel - once believed to be something only humans can do - is the capacity to imagine doing something that you've not yet done. The rats in Dr. Redish's lab visit corners of a maze. Each corner holds pellets of a different flavor and a tone indicates how long the rat will have to wait before the pellet is delivered. If there will be a long wait for a favorite food, the rat hesitates and seems to weigh its options. Is this food worth the wait?
Dr. Redish has just published a new book, The Mind within the Brain, in which he "brings together cutting edge research in psychology, robotics, economics, neuroscience, and the new fields of neuroeconomics and computational psychiatry, to offer a unified theory of human decision-making" according to the write-up on Amazon.com. Read more...

On Sept 24 at 4pm in the University of Minnesota Bookstore, Dr. Redish discussed and signed copies of his book.
---
Kudos to BrainU Participants
The Winter 2010 issue of CBE-Life Science Education journal published an article entitled "Teaching Neuroscience to Science Teachers: Facilitating the Translation of Inquiry-Based Teaching Instruction to the Classroom." A finding reported in the article: Students of those teaching neuroscience as a intensive unit demonstrate increased neuroscience knowledge on content assessments. Read the article - it's the first one listed under Articles.
---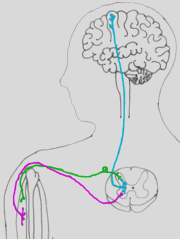 NSTA: Brain, Behavior, and the Senses in the Next Generation Science Standards
April 13, 2013 - Neuroscientist Janet Dubinsky, PhD, and school Superintendent Patricia Camp, PhD, will discuss approaches to the Next Generation Science Standards for brain science at the National Science Teachers Association conference in San Antonio, Texas. Audience members will learn hands-on classroom activities and how to access credible resources from the world's leading neuroscience society through BrainFacts.org.
---
Virtual Neurons 3 Demo at Mn Science Teachers Association Conference in Duluth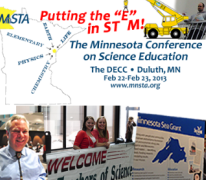 February 22, 2013 - Dr. Jan Dubinsky spoke in Duluth at the 3rd Annual Minnesota Conference on Science Education: Putting the "E" in STEM! Dr. Dubinsky was the Life Sciences Strand Speaker; the topic of her Strand presentations was "Feedback: A (Neuro)Biological and Engineering Idea." She presented a second session on "Using Engineering to Mimic Neurobiology." During this presentation, she introduced attendees to the NEW Virtual Neurons program.
---
Altered Reality: Impossible Made Possible Activity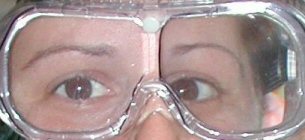 November 9, 2012 - Two BrainU participants created an activity based on the Altered Reality lesson -- "Impossible Made Possible Prism Goggle Activity." One take-away of this activity is the value of repetition in helping students master a new skill - tossing beanbags, running with the ball, or tackling mathematical calculations. Thank you, Jacky and Brian, for this great addition to the BrainU curriculum! Visit the Altered Reality lesson page to download the new teacher and student guides.
---
Dr. Dubinsky on Brain-Based Learning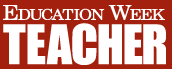 October 23, 2012 - "One of the best ways teachers can use neuroscience in the classroom is by helping students to understand what's happening in the brain when learning takes place." said BrainU director Dr. Janet Dubinsky in response to the question: What are the best ways to practically implement what we know about how the brain learns into our teaching? Education Week blogger Larry Ferlazzo posed this question last week and published three of the responses he received. Read the full article at blogs.edweek.org/teachers/classroom_qa_with_larry_ferlazzo/2012/10/response_using_brain-based_learning_in_the_classroom.html
---
"Smart Drugs" Ethical & Safety Concerns
October 19, 2012 - An article published in the online journal Education Week today reports on the ethical and safety concerns of "smart drugs." Neuroscience for Kids website director Dr. Eric Chudler is quoted in this article which was based on discussions held at the recent Society for Neuroscience meeting in Washington, D.C. Read the full article at www.edweek.org/ew/articles/2012/10/19/09smartdrugs.h32.html
---
BrainU: A Recognized Resource
August 29, 2012 - Many websites list BrainU as a resource for teachers and students of neuroscience. Just a few examples are:
Educational Resources in Neuroscience, a service of the Society for Neuroscience. Type BrainU in the Search field to bring up a short description and link to the BrainU.org website.
BrainFacts.org which features BrainU on the main page as well as on a resource page.
The Highlight Health Network article about BrainU that describes the program and gives readers access to The Synapse cartoon in our Cool Stuff section.
The Life Science Teaching Resource Community (formerly The American Physiological Society (APS) Archive of Teaching Resources), a digital library of peer-reviewed science teaching resources that is free and open to educators worldwide, includes BrainU lessons. Visit lifescitrc.org and click on Search the Archive. Type BrainU in the search field and you'll see the 11 lessons -- all the lessons we've submitted so far. More lessons will be submitted in the next few months.
If you visit a website and see a reference to BrainU, please let us know!
---
BrainU Video
April 1, 2012 - A video describing the BrainU program and featuring participants of last summer's workshops has just been released. Check it out below:
---
Mini Medical School 2012 to Focus on the Brain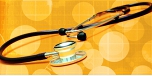 February 1, 2012 - Registration is now open for It's All in Your Head: The Latest in Brain Science and Treatment, the 26th session of Mini Medical School, which meets on Mondays, February 6 – March 5, 2012, 6-8:30 pm at the University of Minnesota.
Discover how world-renowned experts in the Academic Health Center are making major advances in the field of brain science. Explore topics like Post-Traumatic Stress Disorder, Alzheimer's disease, addiction, and rehabilitating stroke survivors, all directly from the researchers and doctors who are developing the latest breakthrough therapies in modern medicine.
To read full details and register, click here.
---
2011 Nobel Conference on the Brain

August 26, 2011 - The 47th Nobel Conference — held October 4-5, 2011 at Gustavus Adolphus College in St Peter, MN — is titled The Brain and Being Human. Lecturers will explore the neurology of human nature, therapies for autism, depression treatment using direct brain stimulation, music and biological evolution, brain-computer interfaces, and decision making. Master teachers from 11 Minnesota high schools have developed lesson plans specifically for the conference; one of these teachers is a BrainU Institute participant. To access the lesson plans, visit https://gustavus.edu/events/nobelconference/2011/teachers/.
---
Dr. Dubinsky at Texas Educators Annual Meeting
June 29, 2011 - In a General Session at the 17th Annual Meeting of the Texas Regional Collaboratives, BrainU director Dr. Jan Dubinsky gave a presentation entitled Science Educators and Neuroscientists: A Collaborative Agenda. Dr. Dubinsky's presentation explored the relationship between neuroscience and education.
The Texas Regional Collaboratives for Excellence in Science and Mathematics Teaching is an award-winning network of P-16 partnerships that provide sustained, high-intensity professional development to P-12 teachers of science and mathematics.