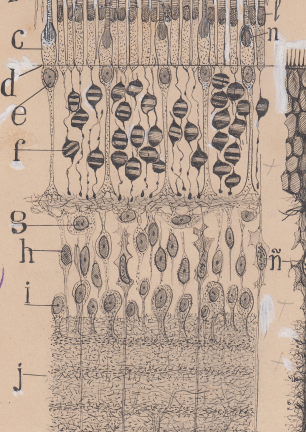 Saturday, January 28 - Sunday, May 21, 2017
at the Weisman Art Museum, U of M-Twin Cities campus
Santiago Ramón y Cajal, considered the father of modern neuroscience, was also an exceptional artist. He drew the brain in a way that provided a clarity exceeding that achieved by photographs. This traveling exhibition of Cajal's original drawings was organized by the Weisman Art Museum in collaboration with Drs. Eric Newman, Alfonso Araque, and Janet Dubinsky, neuroscientists at the University of Minnesota and leaders in the field of neuroscience. Visit the museum site for more information.
January 27 Symposium
The Friday before the exhibit opens, the Weisman Art Museum will host a symposium about Cajal and his work. Guest speakers include Lyndel King, director of WAM; Larry Swanson, USC professor, who'll talk about "The Life and Times of Cajal;" Fernando de Castro of the Cajal Institute in Madrid on "Cajal and his Disciples: The Discoveries of the Spanish Neurohistological School;" and Eric Himmel, editor-in-chief at Abrams Books on "Drawing the Beautiful Brain." The symposium takes place Friday, January 27, 2017 from 12:00-2:30pm at the Weisman Art Museum. Download the flyer.
"More than a century ago, a series of drawings transformed how scientists understood the brain." Thus goes the introduction to a story by Jon Hamilton of NPR's All Things Considered in which he interviews Dr. Lyndel King, director of the Weisman Art Museum. Listen to the January 26, 2017 All Things Considered segment about The Beautiful Brain exhibit, opening January 28.
Read more about Cajal at these links: