Grade Level: 5 - 9 Age Range: 11 - 15 Lesson Length: 1 class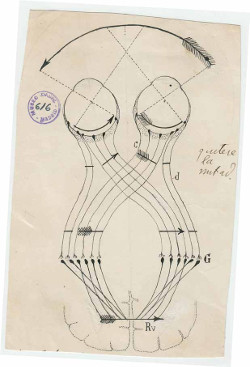 Students will view works from the genre called "Op Art" and discuss what an optical illusion is to create an "Op Art" piece of their own.
Santiago Ramón y Cajal, considered the father of modern neuroscience, was also an exceptional artist. He drew the brain in a way that provided a clarity exceeding that achieved by photographs.
This lesson is one of four developed by Jamee Yung, Weisman Art Museum Director of Education, for the exhibit The Beautiful Brain: The Drawings of Santiago Ramón y Cajal. The lessons include background information about Cajal, the neuroscientist and the artist, with activities spanning language arts, visual arts, science, and math. These activities are designed for middle school students and can be adapted for students in elementary and high school.
The traveling exhibition of Cajal's original drawings was organized by the Weisman Art Museum in collaboration with Drs. Eric Newman, Alfonso Araque, and BrainU Director Janet Dubinsky, neuroscientists at the University of Minnesota and leaders in the field of neuroscience.
The exhibition premiered on January 28, 2017 at the Weisman Art Museum. After April 2017, the exhibit traveled to four other locations in North America. Many of the 80 works in the exhibit have never before left Spain.